How to Start Selling on eBay in 2022 – Top 7 steps to success
eBay should be quite towards the top of your list if you're trying to sell goods online and are wondering where to sell.
For more than 20 years, individuals have been buying and selling goods on eBay, which was among the original internet marketplaces. Additionally, it receives more than 100 million unique visits each month.
It goes without saying that selling on eBay is a successful way to expose your products to a big audience of potential customers.
But how can you get started and what are the requirements for selling on eBay? Luckily, this simple tutorial contains all the solutions.
1. Choose and Source Products to Sell
The choice of what you're going to sell is crucial when you're just getting started. With the exception of anything on its list of prohibited and restricted items, eBay lets you sell a wide range of goods.
Therefore, it's up to you to define your niche and determine how profitable the goods you want to offer will be. Here are some effective techniques for conducting product research:
Discover popular and trending products using eBay Explore.
Utilize Terapeak (an additional eBay tool) to find fresh product concepts and information on things like average selling price, overall number of sellers, overall sales, and more.
After you've narrowed down the products you want to sell on eBay, you'll need to make a strategy for where to get them. Here are some excellent choices:
Dropship Suppliers
This business strategy is popular among eBay sellers since it spares them the need to acquire or manage inventory—all they have to do is list the goods. The supplier then sends the item to the customer after receiving an order. For further information if you want to do the same, see our list of the top dropshipping vendors.
Manufacturers and Wholesale Suppliers
You will buy goods in large quantities from a manufacturer or wholesaler using this sourcing strategy. Finding the ideal supplier for practically any kind of product on websites like Alibaba and AliExpress can save you money.
2.

Choose an eBay Account

Selecting a type of account is the first step in selling on eBay. There are just two accounts you can choose from in this situation: personal and business. Both are cost-free to make, though you'll be charged by eBay to list and sell your goods.

A commercial account is for serious merchants wishing to sell big volumes of goods, whereas a personal account is often for casual selling. A business account allows you to:
Utilize your legitimate company name, and personalise your account to better reflect your brand.
Maintaining separate corporate and personal money will make it simpler to manage your accounting and taxes.
In light of all of this, we advise selecting a business account.
3.

Create and Verify a Business Account

You must complete out several forms on eBay's website to open a business account. You will be required to fill out the following data on the forms:
Legal business name
Business email
Phone number
Password
Username
Legally registered business address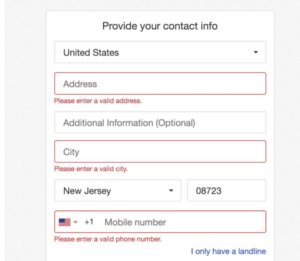 You'll soon have access to your eBay business account if all of the information you supply is accurate.
4.

Personalize Your Account and Policies

You can now alter your eBay business account to suit the specific requirements of your company. Account Settings can be found by using the navigation bar on the left. Here, you can change:

Edit your mailing address, business address, and payment address with this option.
Communication Preferences: Choose how you want to be notified by eBay using this option.
Site options: You may establish choices here for things like payments, shipping, buyer requirements, buyer communication, refund policies, and more.
With the exception of the automatic payment method, you can leave most of these options as they are. Make sure to modify it appropriately because this method will be used to pay your eBay selling charge. Direct debit, credit card, and PayPal are your payment methods.
Go to Account Settings > Business Information > Financial Information to add the payment method. Click Change Automatic Payment Method after that.
5.

Consider Setting Up an eBay Shop

You can open an eBay store if you have a seller account on the website. If you're genuinely committed to selling on eBay professionally, this is a fantastic alternative.

You will have to pay an additional monthly subscription price for an eBay store, but you will be able to give potential customers a more branded and personalised experience.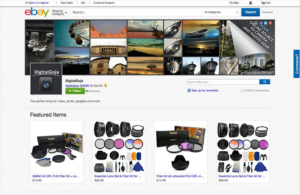 When paid yearly, the cost of eBay's five subscription programmes starts at $4.95 per month. You may be qualified for reductions on eBay selling fees, seller assistance, and other business tools depending on your subscription plan.
6.

List Your Products

The exciting part is finally here: displaying your stuff! Simply click Sell in the top right corner of your eBay business account once you've logged in to begin going.

On eBay, there are 1.5 billion listings. Therefore, in order for your ad to get noticed, you must provide as much information as you can on the item. The key components you need to mention here are:
Product photos
Physical description
Item Condition
Product Specifics
Product Identifiers
Shipping Details
7.

Receive Payment

You are paid by eBay into the associated checking account. eBay will deduct the selling fees and add the remaining funds to your eBay account as Processing Funds once an order has been confirmed and shipped.

After then, it can take one business day for the funds to appear as Available for Payout and another two business days for the payout to actually start. Once the payout has been started, it will show up as Funds Sent and should arrive in your bank account within 1-3 business days.