The simplest technique to fold a burrito so it doesn't fall apart on you is as shown below! All will be well in your kitchen as long as you first draw the tortilla's sides in. Keep in mind that flour tortillas with a diameter of about 10 to 12″ are commonly used to make burritos.
The following are the five essential processes for folding a burrito:
STEP 1:  MAKE SURE THE TORTILLA IS WARM!
The tortilla needs to be warmed up beforehand! The tortilla will become more malleable and less likely to crack as a result. The simplest approach, in my opinion, is to simply heat a dry skillet over medium-high heat. Give it 30 to 60 seconds to warm up before flipping it over to allow both sides to cook up.
STEP 2:  PLACE YOUR FILLINGS IN THE CENTER OR JUST SOUTH OF THE CENTER.
You can place your fillings in the centre of your burrito to enhance its size. Although it will limit how much filling you can fit in the burrito, placing your contents just below the centre can make it fit more snugly.
As you can see in the picture below, I typically pack my burritos really full! They seem to taste best to me when there is a high tortilla to filling ratio.
STEP 3:  PULL UP THE SIDES OF THE TORTILLA AND LIGHTLY HOLD THEM IN PLACE WITH YOUR FINGERS.
Like this:
STEP 4: FOLD THE TORTILLA OVER THE FILLINGS BY GRABBING THE BOTTOM WITH YOUR THUMBS AND HOLDING THE SIDES IN PLACE WITH YOUR FINGERS.
Like this:
Step 5: TIGHTLY COVER THE FILLINGS WITH THE TORTILLA AND ROLL IT UP!
Like this:
And that's it!  It will end up looking like this: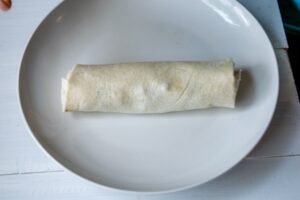 Easy, huh?
And before I serve the burrito, I almost always crisp it up. I cook it for 1-2 minutes on each side in a dry skillet over medium-high heat, or until it turns a light brown colour. You can crisp it up in a spoonful of fat if you want to go professional.
Read Also: How to Control Your Blood Glucose?