How to Decorate a Cake Like a Flag?
There is no general rule to decorating a flag cake; you can make it with any cake base and flavor. But it is always covered in a flag design you respect and adore. Hence get the name flag cake. I will make a sheet cake decorated with an American flag design using colored frosting and fresh fruits. The recipe for this patriotic cake is so simple and versatile that you frost and decorate it right away. Plus, you are making this cake aesthetically pleasing and packed with healthy deliciousness. Come learn with me how to make and decorate a cake like a flag in an innovative style. 
Ingredients required
Self-rising flour (to give the cake base a stable look)

Frosting (add flavor to your cake)

Butter, Oil, and Sour Cream (keep your cake moist)

Eggs and Milk (act as cake binder)

Strawberries and Blueberries (to represent the American flag's color)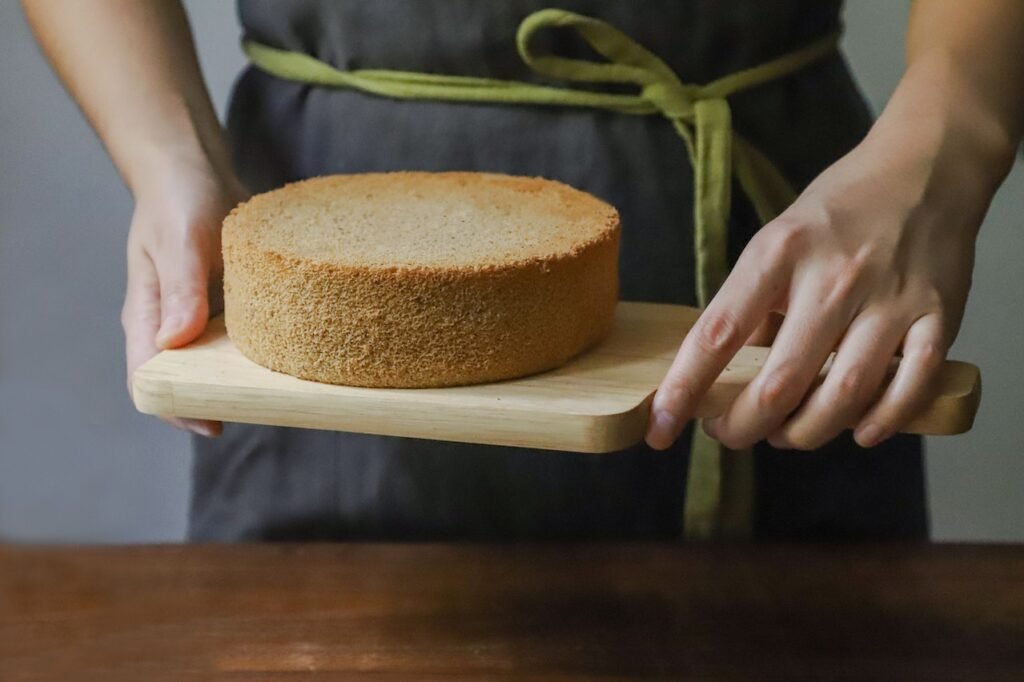 Prepare the base for the cake.
Step 1: Preheat the oven and prepare the baking pan
Preheat the oven to 180°C for almost 10 minutes, grease a medium-sized rectangular sheet pan with baking spray, and set aside.
Step 2: Allow ingredients to reach room temperature
It allows the butter to blend effortlessly with other ingredients, and the eggs will yield a higher cake volume.
Step 3: Combine the Butter and Sugar
Using a hand mixer, combine the butter, oil, and sugar for about 3 minutes to create tiny bubbles. Then add sour cream and continue mixing until it is fluffy and looks white.
Step 4: Add eggs, one at a time
Add in the eggs, one at a time, beating well between each addition. Break the eggs individually into a small bowl first. As if you get shell fragments, you can easily pick them out of the cup rather than trying to get them out of the batter.
Step 5: Stir together dry ingredients.
Next, add the self-rising flour and mix until combined. It gives us a firm and stable cake with a good rise. If you do not have self-rising flour and the recipe calls for it, you can make your own by combining one cup of all-purpose flour with one teaspoon of baking powder and one-fourth teaspoon of salt. Whisk all the dry ingredients in the bowl together to distribute all the components equally throughout the batter. 
Step 6: Add wet ingredients
Then add the milk and vanilla extract. Mix and scrape the bowl's sides and bottom so everything mixes well. Be careful not to overmix at this stage; otherwise, you may get elongated, irregular holes in the finished cake.
Step 7: Pour batter into baking pans and bake.
Pour batter into the rectangular sheet pan that you prepared earlier. Use an offset spatula to spread the batter in an even layer. Shake gently back and forth to ensure the batter is evenly distributed, and bake until a tester is inserted in the cake's center cake clean.
Step 8: Cool the Cake Layer
Remove the cake from the pan, transfer it to a wire rack, and let it cool completely before icing it with your vanilla frosting.
Step 9: Remove the cake from the pan
Run a knife around the edges of the pan, which will loosen the cake and make it easy for you to remove the cake by single flipping. Place a wire rack over the top of each cake and flip the pan.
Gently thrust the pans off, careful not to tear the edges of the cakes, and carefully peel the paper off the cake.
Step 10: Cool the cake
Allow the cake to cool entirely and fan for about an hour to let it firm up and make it less likely to break apart as you frost it.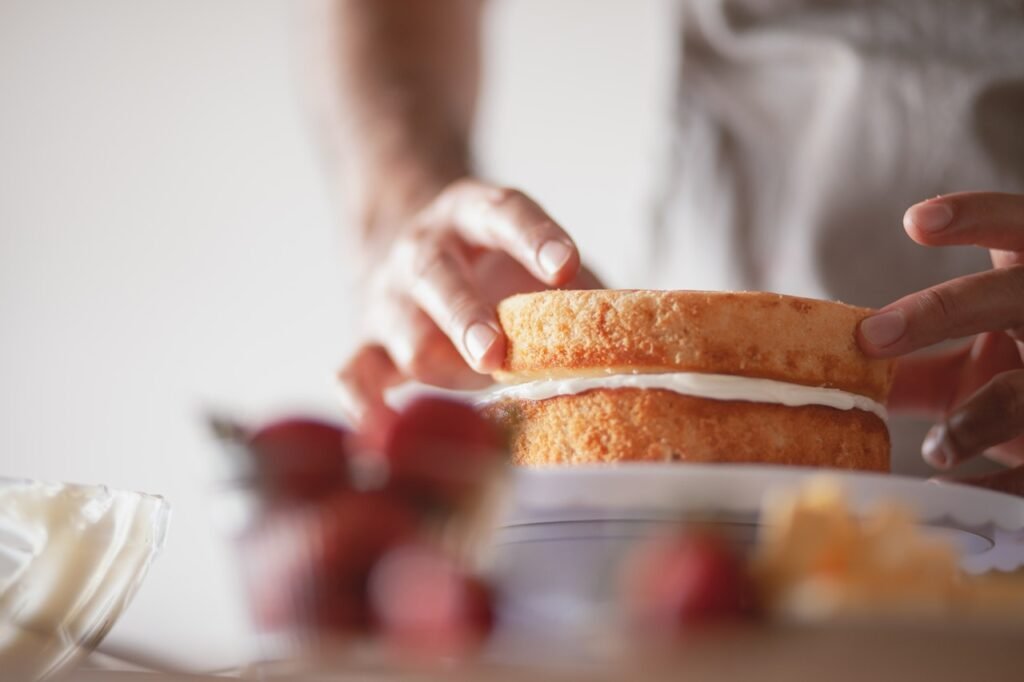 Cake frosting
It is the combination of sugar and some liquid, such as water or milk, but there are hundreds of variations of frosting. I used the basic vanilla frosting made with butter, icing sugar, vanilla extract, and milk.
Prepare vanilla frosting
Add butter to a medium bowl, then sift the icing sugar a little. Mix using a wooden spoon or electric mixer. Pour in the vanilla extract. Yes! The vanilla frosting is ready.
Adjust the thickness of the frosting
Slowly add almost sufficient remaining milk to make the frosting easy to spread. Revise the thickness of the frosting with more powdered sugar if too thin. If too thick, add more milk.
Wash the fruits
Use a paper towel to wash and dry fruits well. Make sure no dirt remains on fruits. 
Cut slices of the strawberries
Slice strawberries in a pattern you like. I like strawberries with a middle cut.
Spread the frosting over the cooled cake.
Using an offset spatula or table knife, spread the frosting over the cooled cake's top sides, swirling as you go. Once the cake is completely covered, add more swirls as needed.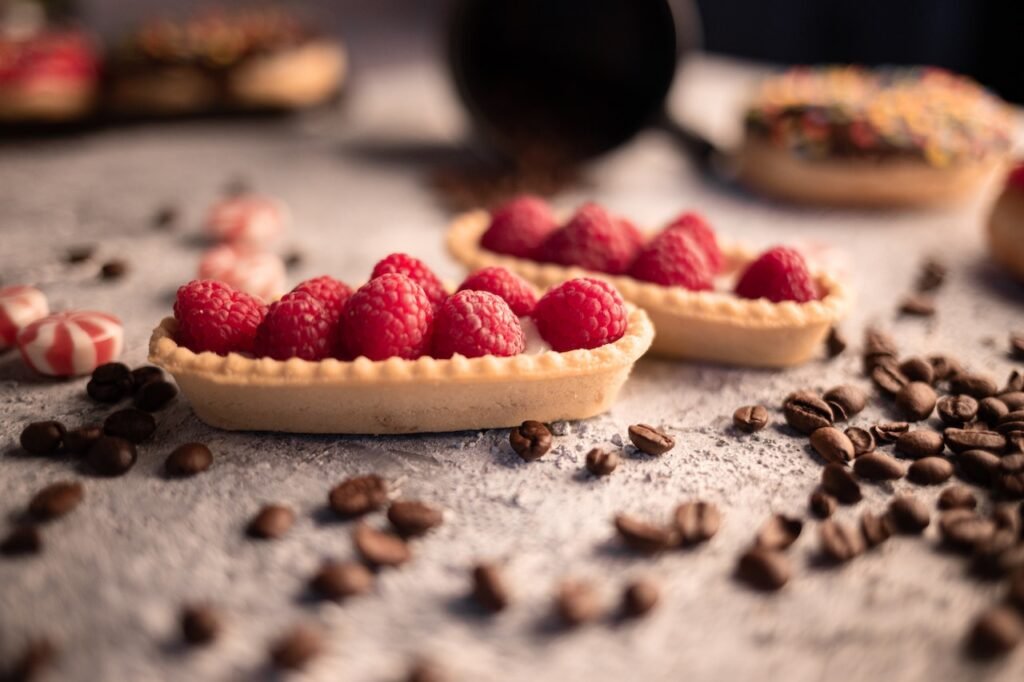 Decorate the cake like a flag
First, make a star-shaped arrangement in the top left corner of the cake by arranging blueberries.  

Then, line the strawberry slices in 5 rows to create the stripes. 

Lastly, use the remaining frosting to decorate the white stripes as needed.

Refrigerate until ready to serve.
MY BAKING TIPS
Use room-temperature eggs
The temperature of ingredients is critical in baking. If your eggs are straight from the fridge, put them in warm water for 10 minutes.
Use butter that is not too soft, not too hard.
It means you should be able to make a dent if you push a finger into it. It should not be greasy and soft. Place the butter back in the fridge for 10-15 minutes to harden if it's too weak. It's a kitchen scale.
Invest in a kitchen scale
A kitchen scale is your best friend when baking because it is the most accurate. If you do not have one, stir your dry ingredients before scooping. Never pack flour into a measuring cup. And always level off with the back of a butter knife if using the scooping method.
Check the expiration date of all ingredients.
If you do not bake often, check the expiration date on your baking powder and baking soda. Many times old powders will be why your cake did not rise properly.
Preheating your oven is crucial. 
Turn on your oven before you start the recipe. If you do not have an automatic beeper letting you know your range is ready, let your oven heat up for 20 minutes before you start baking.