How to Commercially Clean the Carpets?
Do you have a plan to clean the carpets yourself? You can choose to clean office carpets or ask your workers to do it. However, engaging a professional cleaner to accomplish the task can save you. Keeping your carpets clean in a commercial setting is a challenging task that requires regular housekeeping and cleanup. Getting this straight will mean that your mats will be durable and prevent expensive replacement. Let's learn methods used to commercially clean carpets and how to choose the right one that best suits your business.
Steps to follow before starting the cleaning
Before discussing the commercial cleaning processes, the following steps should be considered for exceptional results.  
Sweep carpets or rugs thoroughly before cleaning.   

Utilize heavy vacuum cleaners to remove superficial dust and soil.  

Pre-treat the tints using carpet stain removers.   

Additional cleaning agents can remove oil and grease from the lower layers.  

Popular methods for
commercially
cleaning the carpets  
Many methods are used to clean carpets commercially. However, the following five techniques are best to pertain to.  
Hot water extraction method  
Chemical dry cleaning method  

Carpet shampooing  

Bonnet cleaning  

Encapsulation  
How to clean a carpet using hot water extraction?  
It works by spraying a mixture of water and special cleaning agents at elevated temperatures to loosen up the dirt and other pollutants in your carpet. Once the soil is off, a powerful vacuum cleaner sucks it in and leaves your carpet new. It´s the most common and environmentally friendly way to clean carpets.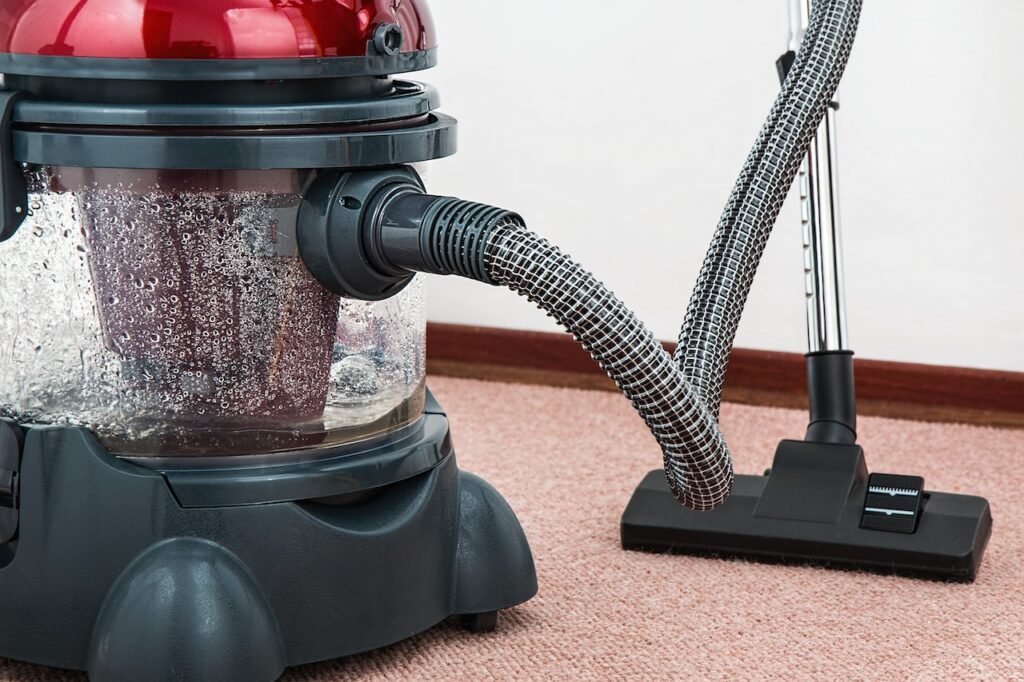 Drawbacks of the hot water extraction method:  
It's a time-consuming cleaning method that takes a long to wash the carpet.  

Machines used in this cleaning method are noisy and can only be used in specific industries.  

Being wet, the carpet takes a longer time to dry.  

If the drying process is not done correctly, bacteria will grow on the mat and produce a smell.  
How to clean the carpet using Chemical dry cleaning?  
The dry-cleaning method, also called compound cleaning, is a relatively new carpet-cleaning approach. The carpet is sprinkled with organic and non-toxic chemicals using a brusher machine. The rug is then allowed to sit for approximately one hour, followed by a deep vacuum to remove the suspended dirt. No drying time and specialized cleaners are required to conduct this method.  
Drawbacks of chemical dry cleaning:  
Dust formation can also occur after cleaning.  

Chemical dry cleaning does not reduce dirt and stains in the same way as other methods.  

This method uses chemicals that may harm some carpets and produces scents.  
How to clean the carpet using shampooing:  
This traditional commercial cleaning method uses a particular brusher machine to shake the detergent inside the carpet to remove dirt. A strong vacuum cleaner is used to remove dirt and soil. It's a cost-effective method as only a carpet cleaning solution and a brusher is required.  
Drawbacks of carpet shampooing:  
This method may take longer to dry.  

This is less effective for deep pile carpets.  

Any remaining detergent can make the mat sticky.  

Unfortunately, many microbes and dirt may reappear later.  
How to clean the carpet using Bonnet cleaning?  
This carpet cleaning method involves a large cotton bonnet in the shape of a circle placed on a tool, allowing the bonnet to rotate. This swiveling bonnet with special detergents absorbs the soil from your carpet surface fibers. As this method requires less water, so requires less drying time.  It also helps extend the carpet's life and is a labor-saving method.
Drawbacks of bonnet cleaning:  
It only provides superficial cleaning.  

Swirl marks may remain on the carpet.  

Adhesives often remain after cleaning.  
How to clean the carpet using Encapsulation?  
It's an innovative carpet cleaning method that uses special detergents to trap dirt particles and dries them into a powder or crystals. A revolving floor machine does this with a safe washing scrub pad. It takes about 24 hours for the process to complete.  Then a vacuum cleaner is used to remove the suspended powder from the carpets. Water consumption in this method is minimal. Moreover, the carpet dries in a short time.  
Drawbacks of Encapsulation:  
A thorough vacuum is needed to remove stubborn stains.  

Not suitable for heavily soiled or stained areas.  
Other less popular methods:  
Dry foam cleaning:  
Dry foam carpet cleaning is a very low moisture cleaning procedure consisting of about 90% air and 10% liquid. In this method, an aerosol container is used to apply shampoo on the carpet surface. Then the scrubbing machine pushes the expanded foam down deep into your carpet's fibers. Once the shampoo is dry, the cleaner vacuum the shampoo and soil residues. This is not a much more effective method as these cleaning foams don't work in removing the stain and can also tend to trap more dirt and grease.
Vacuum washing:  
Vacuum washing uses a wash head that sprays water without detergent and immediately pulls it out by suction, creating a water whirlpool. By immediately re-absorbing the washing water, the drying time is short. This method is suitable for medium to basic cleaning.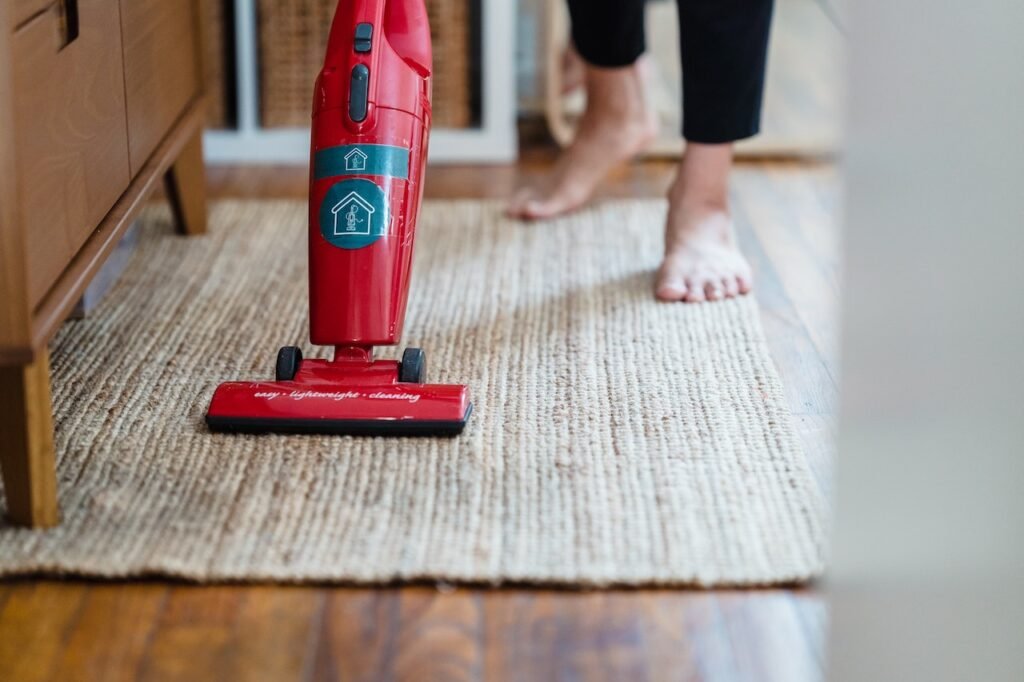 How to choose the best method for your business?  
Choosing the best cleaning strategy for your business depends on many factors.  
Which type of carpet is in your business space?  

What resources are available at your company?  

Which kind of industry or company do you work for?  

For how many hours are carpets available for cleaning?  
Conclusion:  
Commercial carpet cleaning methods are an area of expertise that should be considered a priority. A carpet works just like you are a heating or air-conditioning filter. It captures all sorts of bacteria, allergens, mites, dust, pollen, or other nasty things that can cause problems for workers who have allergies. Various carpet cleaning techniques are used commercially based on the types of carpet, the toughness of stains, or trapped pollutants. So, commercially eliminating these pollutants will benefit business owners and their employees. And commercial cleaning companies best know which method suits your carpets and business.   
Visit the pages on howtothings.net to learn how to wash your car at home and how to wash a shirt at home.