A hair extension allows you to style your hair as you like, even if you do not have copious natural hair. People purchase several types of hair extensions to lengthen and add mass. Some of the clip-in hair extensions on the market can be quite pricey. At home, you can create your own  hair extensions. It sounds fantastic, no? The cost of purchasing clip-in hair extensions from the retailer has decreased.
You may quickly and simply install clip-in hair extensions to your hair. Similarly, you might not be able to achieve every hairstyle because the clips might show when you divide your hair in certain ways. However, you may create a wide variety of hairstyles using both your own hair and extensions. Additionally, these hair additions can be applied as highlights or splashes of colour. This article "how to make clip in hair extensions" will provide you with the right instructions if you wish to build your own clip-in hair extensions.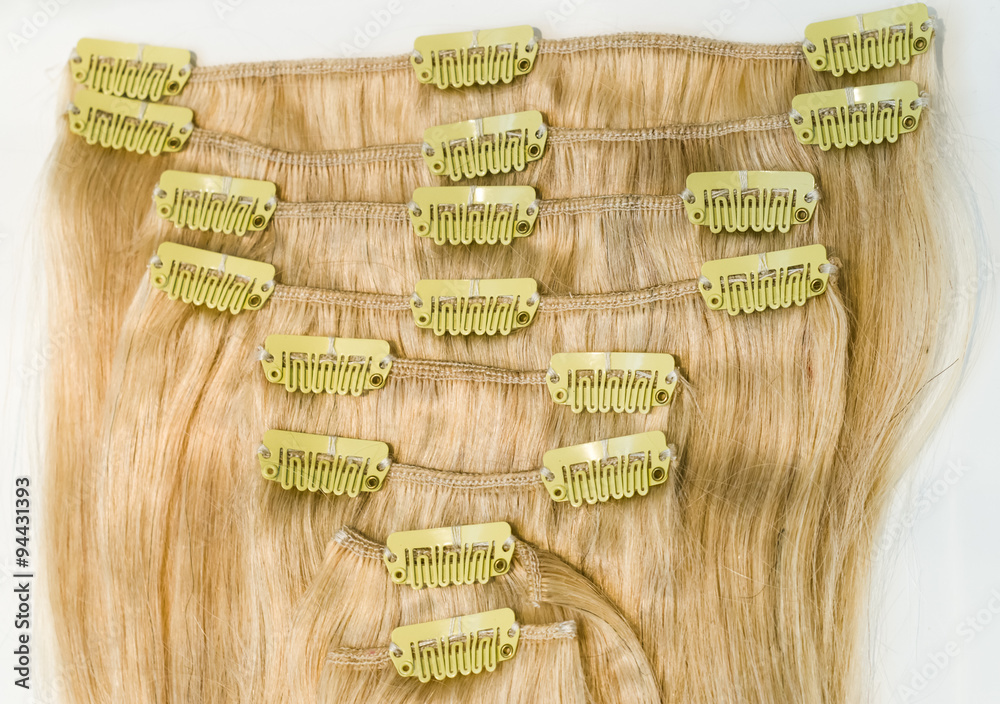 What Materials Are Required To Create Clip-In Hair Extensions?
A number of the supplies and tools needed to make your clip-in extensions are widely accessible. Here are a few of them:
A set of scissors
Thread weaving
Clip-in clips
Extensions for hair (natural or synthetic)
Measurement tape
Things to think about when purchasing Hair Extensions
Look at to see what colours are offered for hair extensions. It's crucial to pick a colour that complements your skin tone and natural hair. It doesn't matter what colour you pick if you want to add highlights. If not, always use complementary coloured hair extensions for a natural appearance. The length of the wig you intend to purchase is the next thing to check. Choose a size that complements the length of your natural hair. The length of the hair extensions can always be adjusted to meet your needs. Therefore, choosing longer extensions is always preferable.
The Making of Clip-In Hair Extensions
Threading the sewing needle is the first step. Use the open ends to tie a tiny knot. Unwrap your hair extension now, leaving the wefts folded in half. More density is produced when you hold two wefts together while sewing. Start sewing the wefts together now, working your way around the fabric. To prevent the thread from slipping, be sure to knot both ends.
Measure your nape of the neck once you have completed sewing the weft. You can cut your weft using that measurement. To prevent any harm, always cut the weft from above. Take the clip-ins you purchased, open them with a snap, and set them aside. Take the clip-ins you purchased, open them with a snap, and set them aside. Start cutting the newly cut hair extension with the comb on the outside. Now stitch the clip to the hair with the thread and needle. For one section of hair, you'll need two clips. At the weft's two ends, sew the clips in place.
Similar to that, you can create as many clip-in hair extensions as you like. Cut the weft into smaller pieces and connect the clip-in hair extensions to your hair anywhere you'd like if you want to use them as highlights. If your weft is small, you might just need to use one wig clip. You can also use small vertical braids of your natural hair to secure these clip-in hair extensions. So that if your hair is on the thinner side, the clip-on won't fall off.
How to Attach Clip-In Hair Extensions in These Easy Steps
Wash your hair and scalp beforehand. You can use whatever conditioner and shampoo that you typically use on your hair.
Gently brush your hair to get rid of any tangles.
If your hair is smooth, you can use gel or hairspray to help you divide your hair and maintain the grip.
Start at the very bottom of your hair. Use a rat-tail comb to make portions that are about an inch long. Shorter hair can be rolled up and secured with a clip-in extension by doing this.
Begin securing the clip-in hair extensions one at a time by using the dividers as instructed.
Your natural hair should completely cover all of the clip-in hair extensions. Therefore, avoid placing any clips too close to your face's hairline.
If you liked the design you just created, a tiny suggestion you may use is to number the clips as 1, 2, 3, etc. You won't need to worry about figuring out which clip goes where when you want to clip in the hair extensions.
Clip-In Hair Extensions Care
For longer-term use, clip-in hair extensions are not recommended. Before you wash your hair or go to bed, remove them. Make a gentle shampoo and water solution to wash those hair extensions. After slowly twirling the hair extensions in this solution, wash them. Next, apply conditioner on them. These clip-in hair extensions should be laid out to dry on a towel.
Don't squeeze or blow-dry the clip-in hair extensions. It is not suggested to combing the wet hair extensions either. After drying, carefully brush the hair extensions to remove any knots. Always keep them in a location where they won't be exposed to a lot of moisture, heat, or dust, which might damage your hair extensions.
Where to Purchase all of the these Components 
Another problem is finding the supplies needed to produce clip-in hair extensions, such as hair weft, hair clips, and other materials.
You could already have scissors and glue in your home, or you can quickly get them at any nearby store. Just keep in mind to get the glue needed to attach hair clips.
You can get hair clips at large hair salons or shops that sell hair accessories. You can choose from a number of varieties in various colours, sizes, and materials.
You can purchase a hair weft from a local, reputable hair salon or, for larger orders, you might think about top wholesale hair sellers all over the world.
Conclusion
So, this is one of the cheapest and easiest methods for making clip-in hair extensions at home. The supplies to make these only cost a small sum of money to purchase. Now say bye to hair with low density and thinning. Let it be a celebration, a nuptial, or a laid-back day. You can style your hair after attaching these hair extensions however you desire.
Ensure that none of the clips are ever visible. You prevent any wig clips from being seen from the outside, make sure to gently comb your natural hair over all of them. Additionally, take your time and be neat when you clip the extensions into your hair. Keep your hair down, in a messy bun, or in a ponytail to enhance your look.
Read also: https://howtothings.net/personal-care-and-style/how-to-put-in-tape-in-hair-extensions/
if you want to learn further about Making Clip-in-Hair Extension: check this tutorial: https://www.youtube.com/watch?v=UZZGdknx85g